In 2006 Hamas won the elections in both Gaza and the West Bank. Since Hamas took over the Gaza strip in 2007 Israel and Egypt closed their land borders to the Gaza strip. In addition Israel implemented a blockade of Gaza by land, air and sea. This blocks not only imports, some of which Israel can claim threaten its security, but also exports. The blocking of exports has crippled Gaza's economy and has no security justification. It is simply collective punishment directed at the population of Gaza. This is prohibited by the 4th Geneva convention.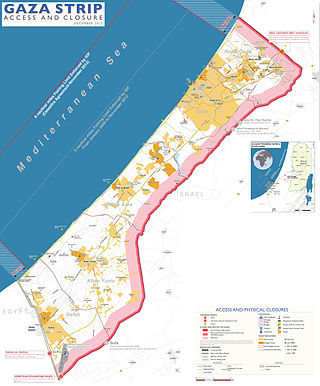 In 2010 Israel eased the blockade and allowed agricultural exports, while still banning industrial exports, so Gazans can export strawberries, peppers, carnations, and cherry tomatoes to Europe.
In any case Israel's stated reason (casus belli) for starting the June 1967 war was Egypt's blockade of the Straits of Tiran. It is unclear whether Egypt would have blocked all ships coming to Israel through the Red Sea or simply Israeli flagged vessels, but the point is Israel considered it an act of war, and considered their response self-defense.
Gaza has been under blockade for seven years. Does Israel accept that its blockade of Gaza is an act of war? Is Hamas acting in self-defense? Or was the 1967 war a war of aggression?